Today I wanted to share the method I use to convert word lists into domain name lists for further research.
Most domain name investors focus on a niche category they are familiar with and put most of their time focusing on these types of domains. Each category is going to contain terms related to them and will often involve a large list. I personally like to know what's going on with all these related terms, so I build domain name lists specifically to them and obtain specific details about each domain.
Let's say you focus on "automotive", and car parts is a sector of terms related to "automotive" that interest you. There are likely available word lists like the one I linked or you can even create your own. To research these terms as domain names, it is best to convert the words to domains to gather domain data.
How do you convert a word list to a domain list? I use two fairly basic programs to do this personally and one specialty method mentioned at the end of this article:
Microsoft Excel (Google Docs would work also)
Notepad
After obtaining/creating your word list, use Excel (Google Sheets) to input your "word list" in column A and then, in column B, type in the TLD of your choice. I will use .com for this example but you can use any TLD you wish.
To populate the TLD (column B) to all the words in column A, use your mouse and go to the corner of the box that .com is in and there will be a little square, hover and wait until you see a little + icon. Double click that square when the + icon appears to populate the TLD. That should populate .com to each one word in column A, like magic.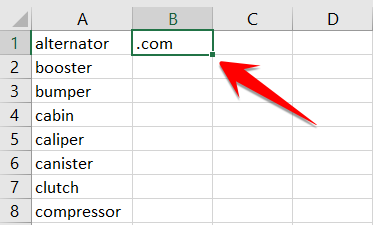 By adding the following formula to column C: =CONCATENATE(A1,B1). Then double click the little square to fill in all rows, you do not have to do the Notepad method mentioned below as columns. A & B will merge into column C and join the words to the TLD.
Now, highlight the last two rows of the term and TLD in Excel. Once highlighted, do: Shift+Ctrl+Home all at once. This will highlight the two columns all the way back up to the top of the list. Right click the highlighted area and then click Copy.
Now, open an empty Notepad document and paste in the list you copied from Excel into it.
There will be large spaces between your words and the TLD. To remove those spaces, click your mouse between the word and TLD. Drag and highlight the entire space. Right click and copy the space.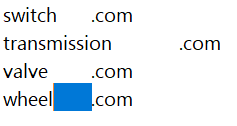 Now, click Edit in the top navigation bar in Notepad, and then click Replace. In the Find What box, paste in your space you copied. Replace With box, leave empty. Then click Replace All.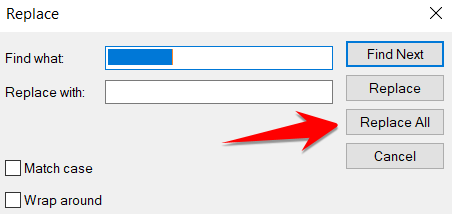 You will now have a clean list of domain names.
What should I do with this list of domain names now?
I use DomainIQ and its Bulk Whois feature to gather WHOIS details on all the domains, which includes creation date (domain age). Sometimes that is all I want to see. Similar bulk domain data gathering tools like Estibot.com offer very nice datasets that you can get on a custom list of domains, utilizing its bulk domain appraisal tool. (DomainIQ & Estibot are owned by the same company). If you are looking for data with the domains, I'd suggest the Estibot route. It's a paid service and the Bulk Appraisal is the tool to gather the data. Most people are not aware that Estibot offers more data than appraisals, but they do. It's around 100 data points that they offer. (Alexa rank, domain age, keyword match, CPC, keyword parsing and more).
What else can you do? I have created special tools that show me if the domain is listed on GoDaddy Auctions (GoDaddy Auctions API). You can use a bulk URL to screenshot tool and visibly see what resolves on each domain for an example.
You can use domain name monitoring services from DomainIQ, DomainTools or other programs that may highlight if a domain expires, transfers registrars, ICANN status changes and more.
I always feel that the better you are aware of what is happening with domains, using tools that you trust, the better off you will be. Keep in mind that most 3rd party data isn't always accurate, and the worst kind of data is inaccurate data. There is a big world of domains beyond what is expired and making your own domain name lists allows you to explore in a different way.
Don't be shy to build tools or use services that will help you with the data, details and time saving efforts you deserve. The more agile you are into what you do, the better off you will be.
Having lists of domain names can often help you with this. There are word lists all over the web, so just look around a bit and you will be surprised at what you can find. Don't be shy about creating your own. Now that you can turn any of those word lists into domain names, you have endless things to look at.
Extra tip, if you read my article about Domain Name Filter Pro and you own it, you can also use that amazing software and add TLDs to a word lists pretty easily; it's easier after you do it once.
The steps:
(Filters (button)/Create basically a "blank" filter that only has character length between 1 & 64 and save this filter as "Wordlist to Domains")
(Options (word link), select All Words)
(Edit/add domains list (add word list))
(Post Proc (button)/Check: Add type TLD (.com) at the end of all domains/click ok)
(Run Filter (button))
The word list should now add the TLD to it.
Happy custom domain hunting!
The information contained in this blog is provided for general informational purposes about domains. It is not specific advice tailored to your situation and should not be treated as such

.