One of the perks of using the Uni Market to sell your domain name portfolio, is the ability to park domains and monetize them.
Why would you do that? To earn money from the activities of potential visitors.
Domain monetization is the process that involves the use of domain names to display ads. Once visitors click on these ad links, a portion of the revenue is shared between the upstream provider, usually Google, and the rest is split between Uniregistry and the domain portfolio holder.
Uniregistry pays Pay Per Click (PPC) earnings on a 30 day basis; what you've earned at the end of March will be paid at the end of April.
The Uni Market system for PPC settings has matured a lot over the years, since its initial roll out. Let's take a look at these options, so that you can optimize your parked domains and improve your traffic conversion to clicks.
First, head over to your Uni Market dashboard, by navigating through your account, or directly via this link.
Once there, select the domain that you want to edit, or search for it via the search function. Then, head over to the Parking Settings segment, which appears on the bottom right side, as per below: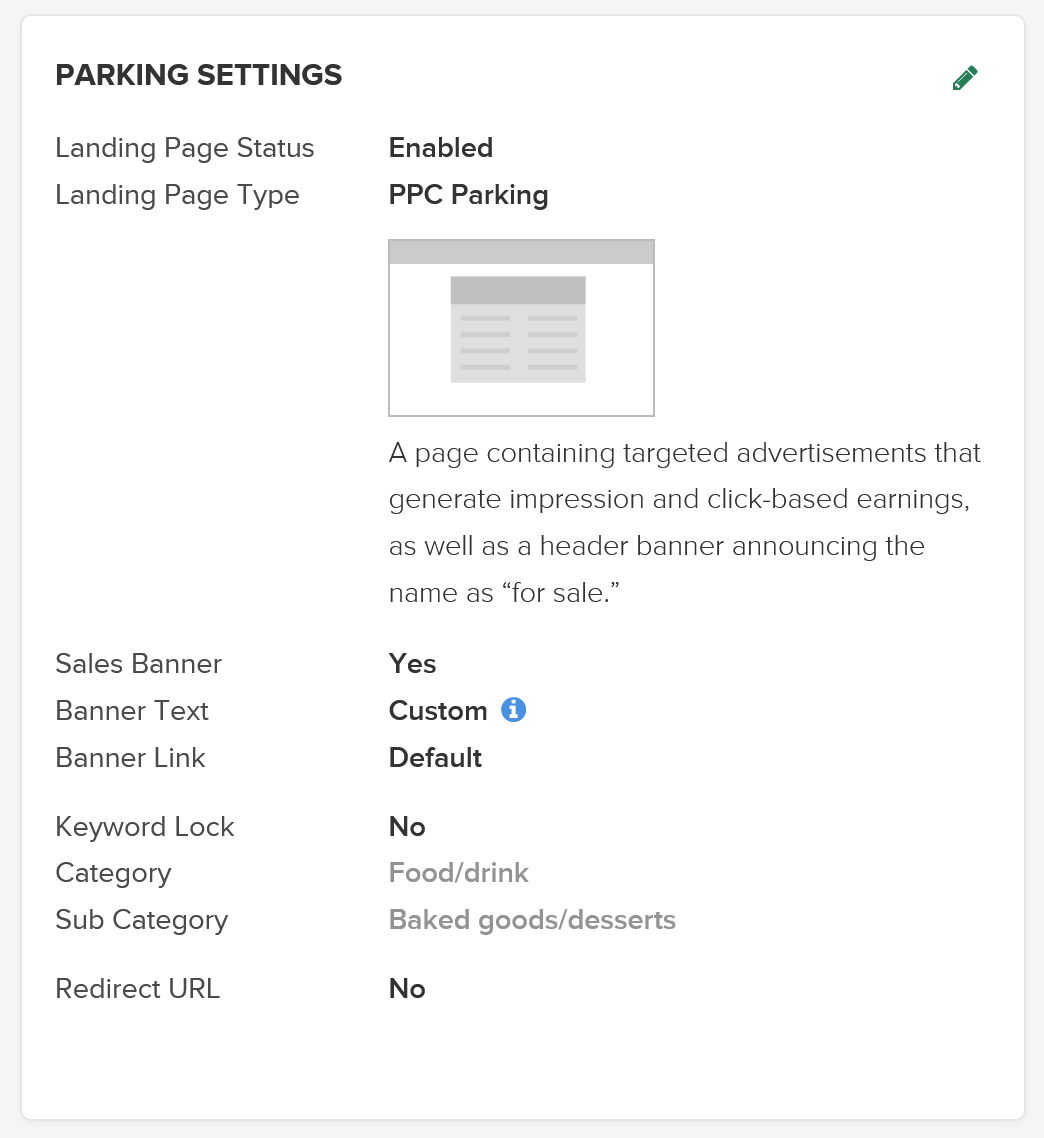 The Landing Page Type should display PPC Parking and its status should be "enabled." If that's not the case, click on the pencil icon at the top right to edit the settings, save, and return to this page.
As the setting indicates:
A page containing targeted advertisements that generate impression and click-based earnings, as well as a header banner announcing the name as "for sale."
To optimize these settings, one important detail is the Keyword Lock. It's a setting that by default is set to "No" but you must change it to "Yes" for a number of reasons.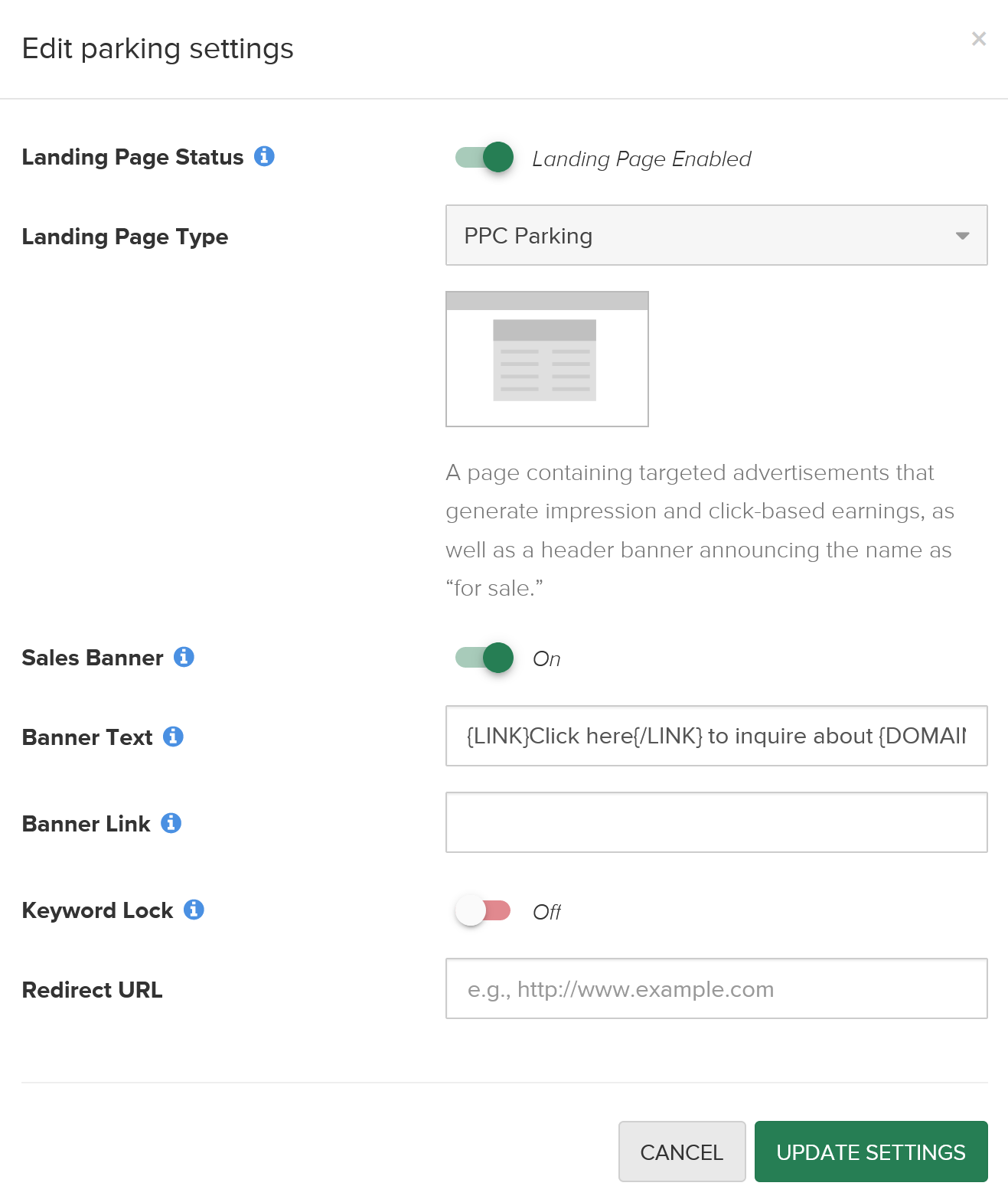 The setting forces the ads displayed to be very closely related to the keyword used. Why would such a setting be important?
Quite often, generic words are used as brands, transforming into marks with a secondary meaning. Such an example is Apple, which is a company creating electronic devices such as phones and tablets.
What would happen with a domain such as BakedApplePies.com for example? It's quite possible that some of the PPC ads displayed would be related to Apple hardware products, and that's not what we'd want to see here.
By setting the keyword to "locked" mode, the ads would be only related to the category and subcategory assigned to that domain, which we'd obviously set to Food/Drink and Baked goods/desserts respectively. This way, we'd avoid seeing ads about Apple products, potentially infringing on the Apple mark.
Here's what the locked keyword looks like: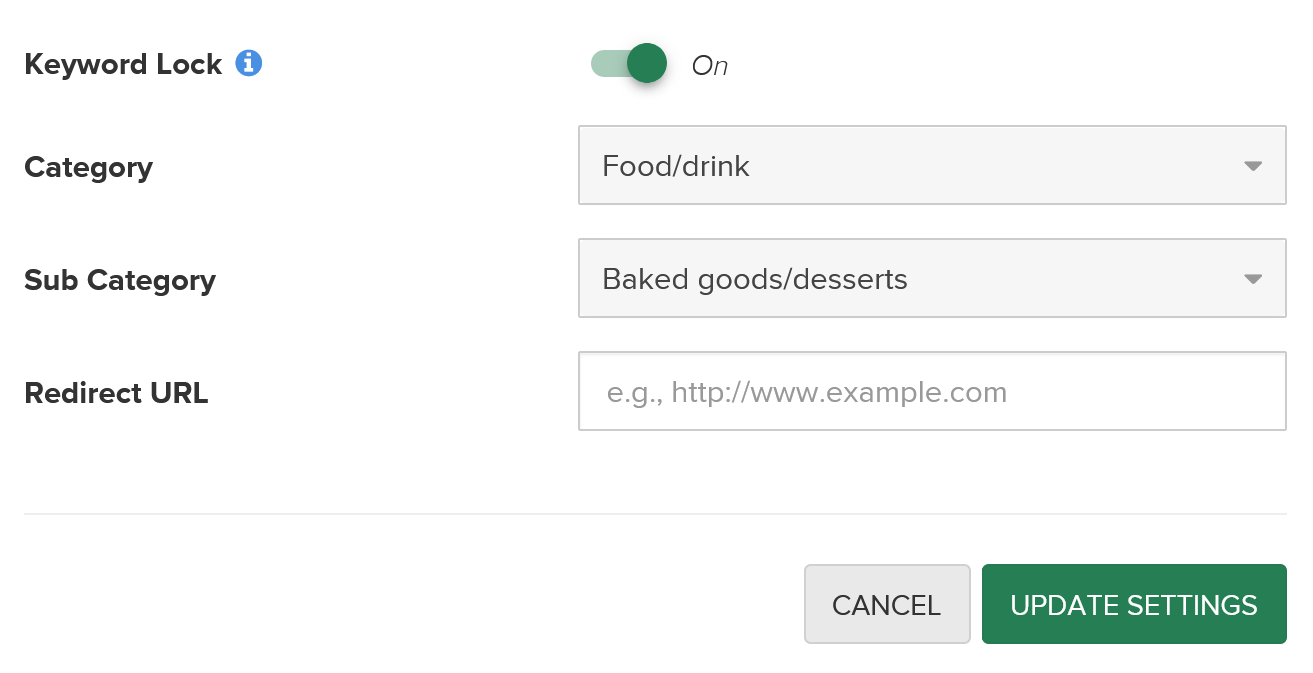 After changing these settings, don't forget to click on "Update Settings" to save your changes before moving on to the next domain name in your portfolio.
Conclusion: Keep your domains optimized by not only choosing the appropriate PPC ad category, but also by enabling the "keyword lock" option to avoid potential conflicts with trademarks in unrelated categories. It's a simple, yet very important tip that will also increase your click through rate due to relevancy of the ads displayed.
The information contained in this blog is provided for general informational purposes about domains. It is not specific advice tailored to your situation and should not be treated as such

.