For the first time, humans have access to more data than we might know what to do with. Modern online user behavior data that's been gathered over the past decade is now powerful enough to predict our next purchase, complete our next search query, and advertise something to us we didn't know we were about to need.
Uniregistry Brokerage has years of data, too. Being a data guy, I spent my first months at Uni going through historical records of thousands of past domain name sales. I found the benefits for our platform we were able to extract from this data are quite fascinating, and good learning material to anyone who has sold, or considers selling on the domain aftermarket.
Here, I'll discuss how the Uniregistry Brokerage and our Market operates based on years of data we've collected, and why. By following up consistently, scoring leads, communicating effectively and balancing quick sales versus high-value sales, Uni is able to maximize ROI and pay higher dividends to domain investors.
Experienced brokers can increase your ROI
While the Uni Market has been in the domain aftermarket business since 2014, our founder has been domain investing for 20 years. Formerly known as DomainNameSales, the Uni Market division of the company has collected an impressive sample of historical data from past sales. Verisign estimates that over $1 billion in annual secondary-market sales of .com domain names can be documented through publicly available data. By that logic, the Uniregistry market share in 2018 is around 5%. If we narrow down this comparison to brokerage-as-a-service (BaaS) only where we have the most experience and success, our share would be much larger. Does it really matter? One can speculate, but if you recently acquired a name registered more than 10-15 years ago, there is a good chance the domain has been listed or sold on our platform before. That previous sale data is available to all brokers across the company and is utilized effectively during negotiations with potential buyers. Having information about prior sales of the same domain name can help close new sales faster and at a higher price point. Browsing through our records, I came across some names that were sold 2-3 times through the Uni Market.
Working with both the Uni Market and Registrar product and engineering teams allowed me to make some neat comparisons about the performance of "make an offer" sales landing pages vs. alternative channels. For example, if you are reading this blog post, you may be aware that expired Uni names are now auctioned at Dynadot. Implementing such a revenue-generating channel is nothing new in the domain industry, as many registrars do that already. Enabling expired names to remain in the ecosystem can increase the chance of good names being used again faster. Comparing names that had been sold on the Uni Market in the past but weren't renewed recently and received auction bids, I noticed a strong trend: auctioned names can be sold faster but at a much lower value. See some examples in the table below.
| | | | |
| --- | --- | --- | --- |
| Domain Name | Auction Sale Price | Brokered Sale Price | Difference |
| onelab.com | $2,134 | $7,000 | +228% |
| smartvac.com | $577 | $1,500 | +159% |
| ccollege.com | $317 | $2,000 | +530% |
| sailingtours.com | $521 | $4,000 | +667% |
| eagora.com | $106 | $1,909 | +1,700% |
| appcloner.com | $50 | $2,000 | +3,900% |
| basketballclinics.com | $65 | $1,409 | +2,067% |
| implantdentures.com | $575 | $5,000 | +859% |
| sailingtours.com | $521 | $4,000 | +757% |
| mercadoautos.com | $130 | $5,000 | +3,746 |

Although the table shows data from expired auctions triggered automatically by the registrar backend, similar aftermarket distribution channels can be used by domain investors. It's called "user auctions". All of this can be a good benchmark of how much value can be extracted by those investors whose strategy is to wait longer over "flipping" their names faster in one form or another. In all fairness to the auctions, sales there can happen faster as multiple bidders are involved—usually domain investors.
Based on the data I've reviewed, assigning leads to brokers tends to increase the average sale price, as the names are usually sold to end-users. Our brokers qualify those buyers and also have experience and tools to educate them on what makes a domain valuable. It's part of the sales process that requires time and a personalized approach and makes a world of difference.
80% of sales will require many follow-ups to close
Have you heard the story about the Uniregistry broker who successfully closed a sale after communicating with the buyer for 3 years? This is not a result of mere luck, but one of the many elements of our sale process supported by a proprietary customer relationship management (CRM) system which keeps the conversation going while also allowing truly uninterested leads to opt-out at any time. Uniregistry brokers are taught to use different follow-up techniques to increase the chances of securing a sale. Drawing from publicly available data, 80% of sales require five follow-ups after the initial contact but 44% of salespeople give up after just one.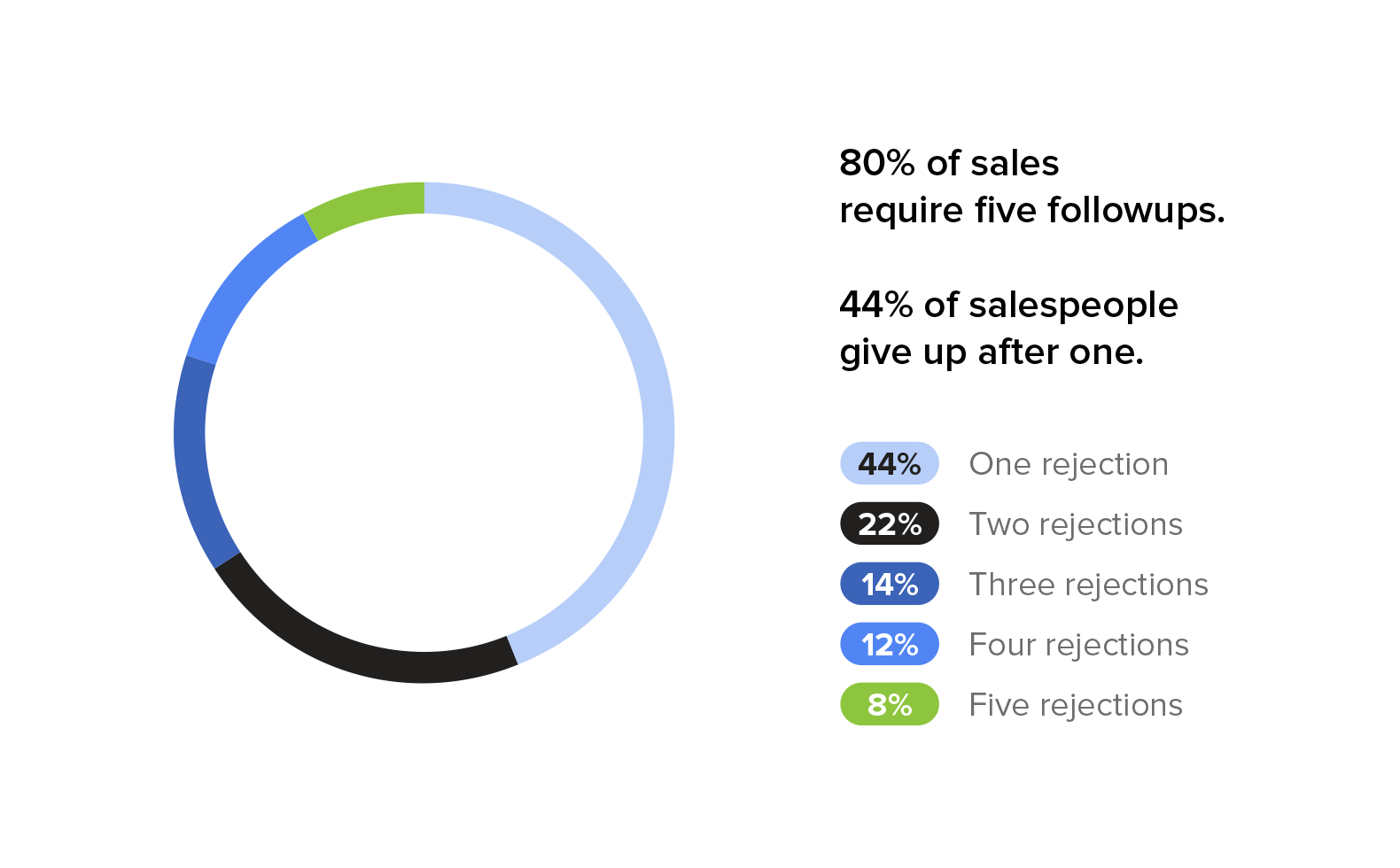 Our brokers are trained on how to follow up properly, qualify buyers along the way, and apply strategies customized for individual buyer profiles. This is based on a variety of factors. Some of them are proprietary to our CRM and can't be disclosed, others are related to softer aspects of the sales process. To give a few examples, our brokers can quickly determine the buyer's industry, company size, purchase intent (i.e. impulsive buyers) to uncover the true value the buyer sees in the domain name. Our system can recognize the buyer's country, geo region, or even city, and assign the most suitable broker to engage with the buyer. Every lead is automatically rated to help both our buyers and sellers assess its potential (i.e. average sale and median per company size or industry). With over a quarter billion USD in processed aftermarket sales to date, Uniregistry has one of the largest databases of successful sales approaches in the domain aftermarket industry.
Every Uniregistry broker is encouraged to be creative and experiment with new sales tactics and strategies. Also, not many people know that our company retains a dedicated team of sales assistants that review over 38,000 inactive sales leads every month using a combination of automated and semi-automated techniques. The best leads are flagged and sent back to the brokers to follow-up with potential buyers.
In 2018, Uniregistry brokers placed 383,104 phone calls on behalf of its clients, following up on leads or communicating directly with buyers. That's over 70 phone calls on average for every successful domain sale. Going through past buyer-broker chats in our CRM, I noticed that a successful phone call touch-base with a domain buyer correlates strongly with a higher sale price. I would need to spend more time crunching the numbers to get a better estimate, but when I was running tests using my private portfolio, the buyer's offer on average doubled after the broker managed to chat with the buyer on the phone vs. over email. An email may be the quickest way to get an answer from a buyer, but it's really difficult to get a good feel for sales objections and temperament of a potential buyer compared to on a phone call.
As long as the DNS servers are pointing to Uni Market to enable the sales landing pages, the sellers can take full advantage of the aforementioned benefits.
Repeat buyer network increases chances of selling your name
Our internal data shows that 92% of the aftermarket buyers are one-time buyers. However, the company maintains relationships with a collective network of repeat buyers that make up the remaining 8% of sales volume (sales value ratio is much higher). This group consists of brokers working for other companies, agencies, consultants, investors, lawyers, and serial entrepreneurs, who have come to trust and rely on our services. Some of our most successful brokers make up to 35% of their monthly sales quotas through the repeat-buyer network. Our commission structure incentivizes maintaining and expanding the collective repeat-buyer network which results in increased chances of closing more sales. The proprietary CRM system facilitates such interactions. Uni works with around 35 full-time brokers across both Americas, Europe, Asia and Australia. Access to the repeat-buyer network is an indirect value that comes with bringing domain portfolios to Uni.
The platform allows every seller to self-broker their names as well. What I have seen working well for our partners is reassigning their old leads (30-60 days without a sale) to our brokers. Selling is a performance game as sales are generated through skill and technique. The median sales price for Uniregistry is $3,500, which is higher than other marketplaces.
The best ad is a good product
Being a product manager, it would be remiss of me not to mention other benefits of the Uni Market that have been architected to increase the likelihood of closing a sale or expanding the reach by attracting a larger audience of potential domain buyers.
Payment Plans
Not everyone has thousands of dollars to spend on the desired domain name right away. A buyer may feel the domain is worth the price but may not be able to pay the full amount upfront. They can, however, spend a couple hundred a month. To reduce sales frictions on this front, all names assigned to a Uniregistry broker are eligible for payment plans. This will not only increase the probability of selling your domain name but can also provide a steady recurring revenue source you can reinvest every month in new domain acquisitions and renewals. Chat with your broker or account manager about applying payment plans to your domain name sales.
Partner Network
Although type-in traffic is by far the largest source of leads, we put an active effort to bring more eyeballs to domains actively listed at Uni Market. The Market is integrated with the Uni registrar which generates around 8% of leads for the brokerage team every year. We are constantly expanding our network of partners to increase the exposure of your names. We are integrated with various domain service providers and currently, we are trialing Market integration with Dynadot registrar, one of the top 10 registrars in the world. The initial integration affects Market domains registered at Uni registrar, and the results are promising. If you are listing your domains on the Market but have your domains with a different registrar, consider transferring them to Uni registrar to take full advantage of the partner network.
Secure Simultaneous Exchange
Uni's Secure Simultaneous Exchange (SSE) is a seamless payment system built into our platform that enables sellers to self-settle domain name transfers once the payment is received, without a third-party stakeholder. If you list your names on our platform, the buyer can pay via Uni fast and easy. The added benefit is an instant transfer if the name is with our registrar, so the sale completes immediately and the funds allocated to your next payout.
SSE has significantly reduced the time needed to finalize the transaction after the buyer agrees to pay. Before developing SSE, Uni offered integration with a third-party payment partner and more than 50% of the buyers never finalized the purchase after receiving a checkout link, which may have resulted from the confusion of being sent to another service provider in the process. Introducing SSE has changed this by ensuring more buyers complete sales transactions.
Would you rather sell your domains fast or sell them at the highest possible price? If you're trying to sell aggressively, Uni Market may not be the best fit for you. However, if you're in for the long game and have a quality domain portfolio, optimizing your sales effectiveness might be the way to go. Finding the sweet spot between effectiveness and efficiency is truly the ultimate goal for all domain investors.
Want to know how Uni Market can best serve your needs? Sign up to give it a try yourself or talk to us at brokerage@uniregistry.com to explore how Uni can improve your domain sales performance and ROI.