Afternic.com is the domain name aftermarket service that is owned by GoDaddy. GoDaddy uses Afternic to offer several services to domain name buyers and sellers. Today, I wanted to share a few things about it.
Afternic DLS
The DLS is the backbone of the Afternic experience for buyers and sellers but most do not understand its wide reach and unique offering. The easiest way to explain it: Afternic DLS puts domain names in places that potential buyers see them, when it's most important and trusted to purchase.
Afternic does this with over 100+ DLS partners, which are mainly domain name registrars thought the world. For qualified domain names listed on Afternic and buy now priced, these domains can be presented on partner sites based on a users search. For an example, a customer at Network Solutions (partner) does a domain search on NetworkSolutions.com for a domain name they want. If the domain searched is one for sale via Afternic DLS and buy now priced, it will be presented for purchase directly on Network Solutions to the user. The customer completes the purchase directly on Network Solutions and the domain name transfers directly into the customers Network Solutions account.
Trusted provider, easier payment, familiar user interface, seamless experience! Right place at the right time! Great for domain buyers, great for domain sellers!
Afternic DLS is built on long standing partnerships and technology for an unparalleled buying experience that presents domain names in front of eyes when its most important. A true win/win for buyers and sellers.
Beyond the DLS are there are things that can help sell a domain name? Certainly!
Afternic For Sale Pages
IMO, the Afternic DLS is the most important aspect of listing your domain name for sale on Afternic. A supporting cast to the DLS is what resolves on the domain name that is for sale, the branding and the sales team that supports the lead forms and the phone numbers displayed. This whole package plays an important roll.
Often, when someone is interested in acquiring a domain name, they visit it directly to see what is on it. This is an important time to leverage the globally recognized GoDaddy branding and drive engagement with the professional Afternic sales team.
Afternic offers a couple different options for domain sellers to choose from to allow potential buyers to act based on what resolves on the web page of the domain name for sale: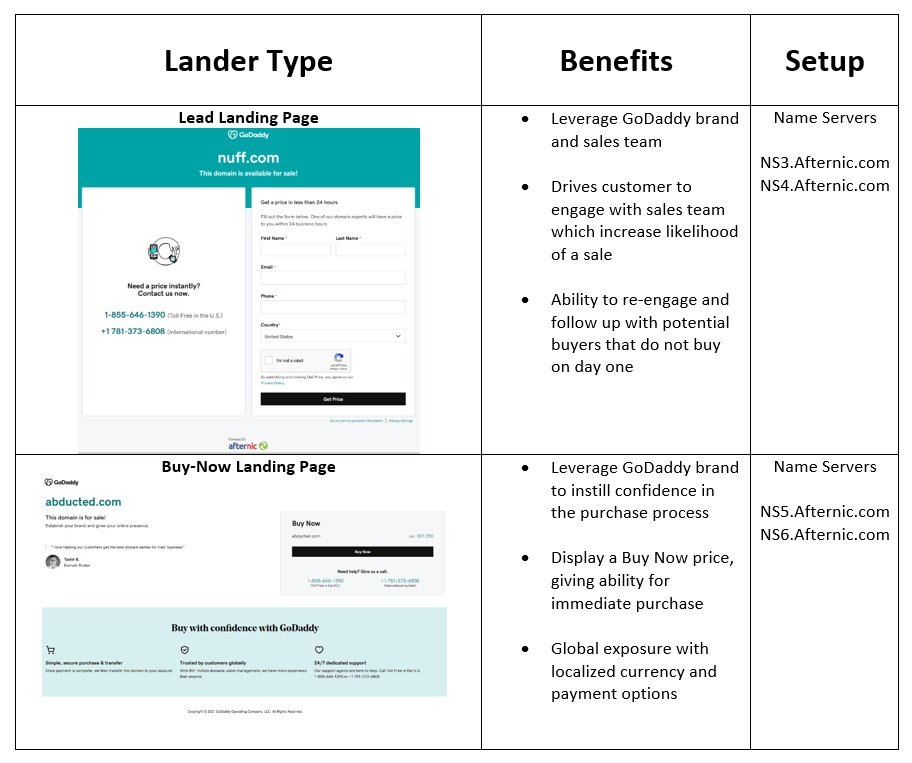 Success Fee: Sliding scale. $0 to $5000: 20% ($15 minimum) | $5,001 to $25,000: $1,000 plus 15% of amount over $5k | $25,000 and over: $4,000 plus 10% of amount over $25k
Reminder: Make sure to list your domain names on Afternic first and have the domain name Buy Now priced.
Afternic DLS supported TLD's are: .com, .net, .org, .co, .info & .biz
Pricing
GoDaddy internal data suggests that up to $1,000 USD may be best suited for the buy-now pages, and domains priced above that amount should use the lead landing pages.
I personally feel that domain names are often purchased on impulse. The median average sale prices on .com domains is normally around $3,000. This builds a window of around $1-$5K that I think is a "sweet spot" for domain sales and I think domains up to $5K buy now priced is a good option to capture impulse sales.
I also know that many people are educated on the values of domain names and a fairly priced domain is known by such and the appreciation and ease of the buy now option is enjoyed by many. On the flip side, a lot of people are not educated on domain name values and it is in the best interest for them to speak with a domain broker to help with this education process.
I wouldn't suggest to ever put all your eggs in one basket, and I would suggest not doing the same with your domain for sale landing pages. Mix it up a little bit and use a combination of buy now (higher and lower pricing) and lead form pages to accept offers on. The Afternic brokers are highly experienced in selling domain names and I have my full trust in the process and the work they do. There is no one perfect solution but using a combination of pricing is a good place to start.
The perfect combination IMO is the pure power of Afternic DLS, supported with GoDaddy branded Buy-Now and/or Lead Landing pages that are backed by a professional sales team that are on your side. You are setting yourself up with a great partner that continues to strive in the domain name aftermarket business when you choose Afternic.
The information contained in this blog is provided for general informational purposes about domains. It is not specific advice tailored to your situation and should not be treated as such

.