GoDaddy has just finished an A/B test of domain "For Sale" landers for domain names listed on Afternic. If you are an Afternic user, you might have already seen this lander design on some of your domains, but I wanted to share a few other details with you.
The first big improvement comes with conversion of visits to leads (form fill-in) for the desktop version with the new landers, which increased by 47% compared to the old landing page design. Sweet! A lot of design tweaks and a large amount of testing takes place to get this kind of improvement, and this was a great overall improvement!
With mobile usage skyrocketing, the mobile design of the For Sale lander is even more important than ever before. A/B testing proves it; having the contact form above the fold (no scrolling needed) making a big difference. The new mobile design saw a +63% in lead conversion compared to the past mobile lander. Awesome!
Here is a look at the old for sale lander (left) and the new for sale lander (right) with both desktop and mobile versions displayed: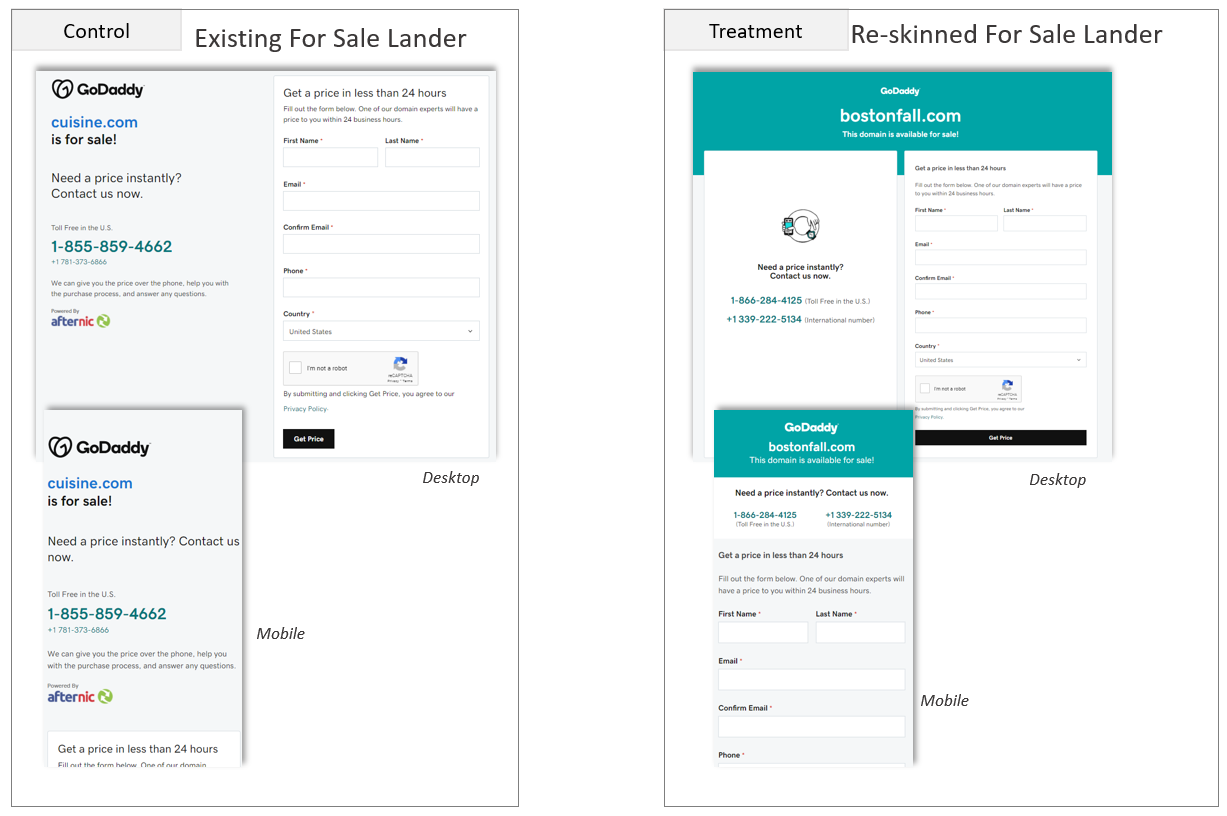 Overall, the A/B test and redesign of the GoDaddy domain for sale landers has been a great success. The new design is cleaner, while positioning the domain name front and center at the top of the lander. Design improvement also fixed prior "wrapping" problems of the displayed domain, now giving the domain more room. Having the contact form above the fold on the mobile version is a winner.
GoDaddy continues to test variants to increase the visit-to-lead conversion on landers and they are also working on other landing pages, including the BIN ones as well. More to come soon.
GoDaddy/Afternic landers appear in two different formats, depending on the domain name server (DNS) that is used.
PPC Version: Use ns1.afternic.com and ns2.afternic.com
For Sale Only (as pictured above:) Use ns3.afternic.com and ns4.afternic.com
The information contained in this blog is provided for general informational purposes about domains. It is not specific advice tailored to your situation and should not be treated as such

.