I wanted to provide some updates regarding GoDaddy Auctions as the entire platform is getting rebuilt and many new features are being added. These updates are being released in batches and the next release is related to the search and find experience.
The entire search experience is being redone from the ground up and this was required to allow many new types of searches and features in the future. Much more to come on this soon; I wanted to share the current release which is available now!
The following screenshot is a look into the future and expected to be released in Q3 2021 (September/October).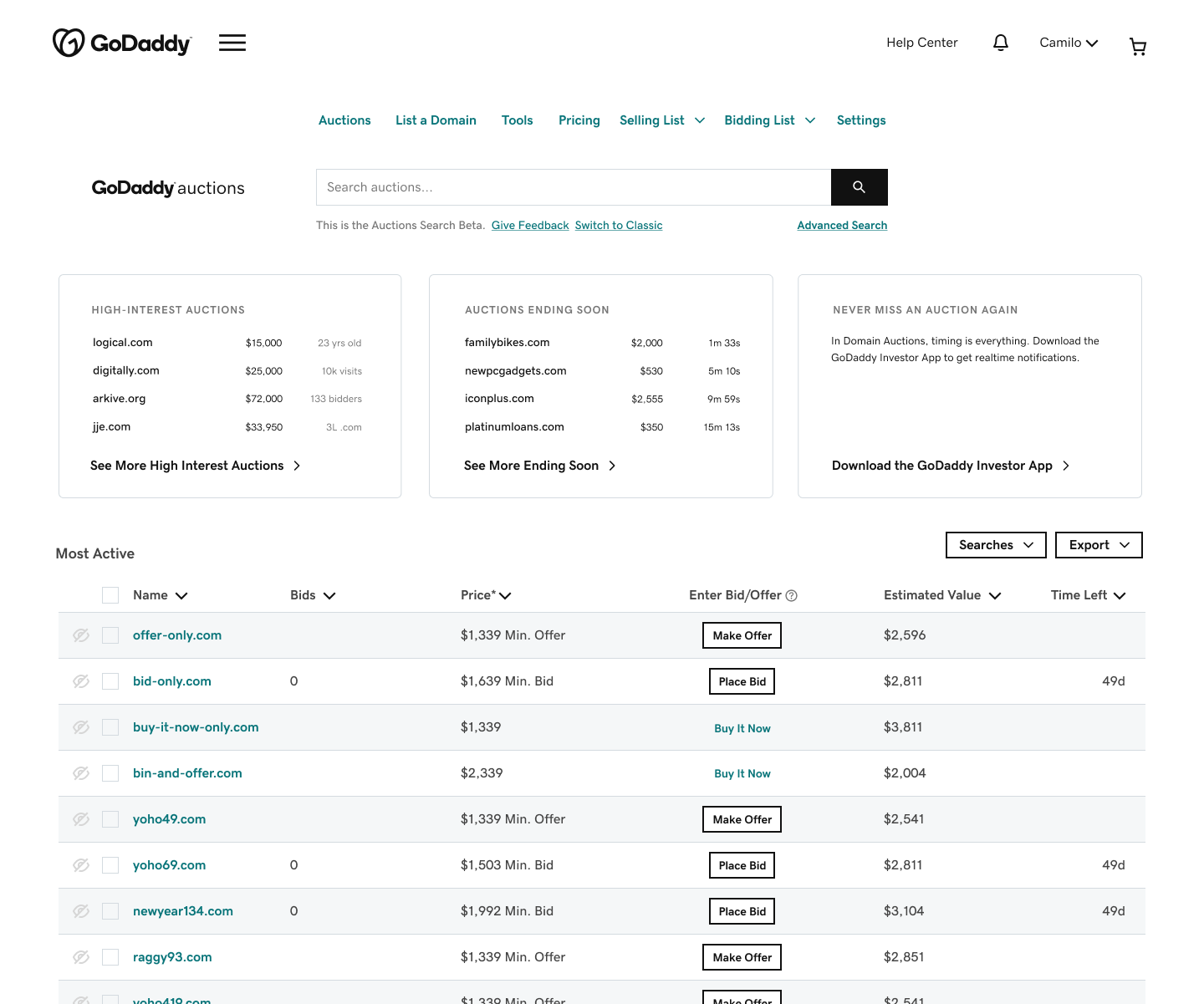 I personally have been working with the development teams and a continued pain point that I want addressed is the amount of time that is required to find the goodies. Expect curated lists, along with the addition of AI and machine learning technologies that will also improve search over time. Columns will also be customizable so you can select what you want to see for data.
Speed! At any given time, there are about 14 million domains in the auction inventory so searching a database that large can be a slow process, but response times have been greatly improved and are more stable.
The search results page includes fly-in with domain details, instead of having to go to a new page and losing current search results. Improved bid/purchase flow.
GoDaddy Auctions will continue to get new updates throughout 2021, so expect a lot more helpful and highly requested features to continue to be added and improved upon!
Expired .io Domain Inventory
GoDaddy Auctions will start having .io expired domain inventory from registry partners throughout Q3 of 2021. The first expiry domains should start arriving early August 2021.
It's a known fact that .io domains are popular among both domain investors and the startup community.
To note, customers now have the ability to list registry premium .co and .club domains for sale on GoDaddy Auctions, which wasn't an option prior. GoDaddy Registry now owns both extensions and helped open the door for this to take place.
Stay tuned for many more exciting GoDaddy Auction releases soon! Drop into GoDaddy Auctions and check it out.
The information contained in this blog is provided for general informational purposes about domains. It is not specific advice tailored to your situation and should not be treated as such

.