Managing your domain portfolio at Uni is a responsive, efficient, and swift experience due to its extensive back-end interface. Perusing your domain stats is an important part of the back-end, and its capabilities are being improved constantly.
The domain parking and inquiry stats at Uni have been receiving lots of upgrades this year, adding new features that often go unnoticed; this article is meant to highlight these new features as implemented throughout 2020.
Assuming you are already logged into your Uni account, switch to the Market Domains page, or directly via this link.
This is your default portfolio view for all of your domains. You can switch to viewing a different section of your domain portfolio from the navigation menu on the left. Once there, the default view presents four distinct viewpoints:
Sales: Set up your sales intake form style.
Pricing: Set list prices, floor prices—a new setting to prepare for integrating your name listings with Afternic.
Brokerage: Apply settings for how your domains get brokered—by you or the brokerage team.
Parking: Adjust your parking setup, sales banner, and keywords.
Keep in mind that you can filter these domains further, and limit your stats period to 7 days, or 1 month: Select your preferred period using the Period drop-down.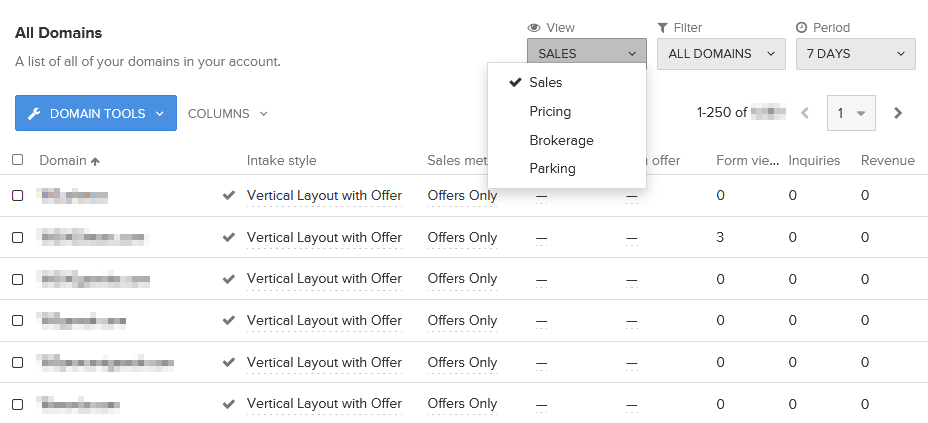 Each one of these views has its own feature columns, focusing on the elements that are most important.
You can turn on and off additional columns and customize your current view, depending on the type of information you need. As long as you have adequate desktop space, you can add every single additional feature column available!
To add or remove feature columns, click on the Columns option and make a selection from the drop-down menu. You can remove these extra feature columns in one move by clicking on the Reset option next to Columns.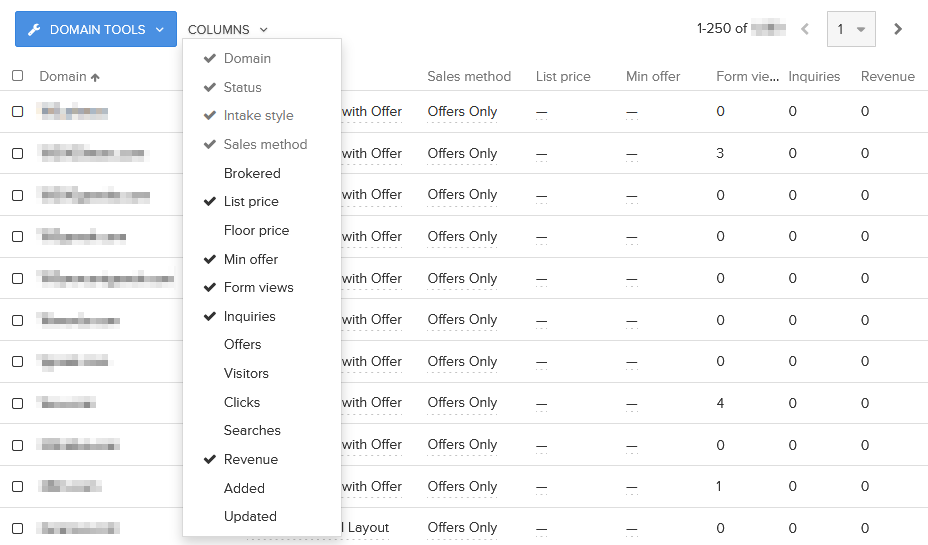 For example, here's what your stats look like in Sales view, when you check the following columns from the drop-down menu: Form Views, Inquiries, Visitors, Clicks, and Searches:

In this scenario, the optional columns are added next to the default ones, and you can sort the viewing output by clicking on their respective headers:
Domain - To sort alphabetically.
Intake style - Style for the for-sale intake form.
Sales method - Specifies the approach in selling the domain.
Form views - Displays an estimated number of visitors to the for-sale intake form.
Inquiries - The number of inquiries submitted.
Visitors - The number of visitors to the parked domain.
Clicks - The number of visitors that clicked on a parked ad link.
Searches - The number of searches made on the parked page.
Each main view—Sales, Parking, Brokerage, Parking—retains its own customized feature columns, making it easy for you to view the stats data in subsequent reviews of your portfolio.
Conclusion: Improving the current domain stats features and adding new ones is part of the Uni commitment to its users: Provide great domain portfolio management tools.
The information contained in this blog is provided for general informational purposes about domains. It is not specific advice tailored to your situation and should not be treated as such

.