Selling domain names at the Uniregistry Market requires very little upfront effort.
You can add domains in bulk and edit their preferences and settings quickly—an especially useful tool if you have dozens or hundreds of domains in your portfolio.
There is one setting, however, that many domain investors forget about: Domain Capitalization.
Let's face it: Unless you own only single word domains, capitalization is important in order to separate words. Even if your domains contain dashes, capitalizing the first letter of each word creates a nice visual that enhances the legibility by those who peruse your domain portfolio. The latter is true on Afternic, a GoDaddy company, where sellers can link to their entire domain portfolio from within every domain.
Domain name capitalization makes no difference in how a domain resolves. Both upper case and lower case letters are treated the same by web browsers, apps, and DNS resolvers. But when you write down the domain as "UniregistryDomains.com," it's easier to read. If your domain is 3 words or longer, you're looking into some serious improvements in legibility!
Your domain name's descriptive content would also appear in search engine results pages with the capitalization of your choice; the same for sale landing pages.
Fun fact: Capitalization for domains in the German language is probably less appealing, as all nouns are capitalized by default; by breaking this grammar rule all words appear the same. No wonder Germans like to use dashes in domain names as a means of visual separation!
When adding domains to the Uniregistry Market, the system will parse them and attempt to capitalize the words it encounters.
While the system is quite intelligent, it will fail under certain conditions, and you need to go back and edit these domains that look odd due to their capitalization. For example, splitting ThePenIsMightierThanTheSword․com differently allows room for some giggles.
Splitting domains into the words they consist of is not the only case where capitalization makes a difference. When your domain is an acronym as opposed to a word or group of words, it's a good idea to capitalize it accordingly. If it contains both words and an acronym as a prefix or suffix, once again it's a good idea to capitalize these bits in a legible manner.
How can you change the capitalization of your domains within the Uniregistry Market? Here's a two-step guide.
First, enter your Uniregistry Market account, and locate the domain in your portfolio that you want to edit. Then click on the little "pencil" icon next to the domain. It will open the following window:
Simply edit the capitalization of "mybestdomain.tld" to "MyBestDomain.tld" and click on the SAVE button: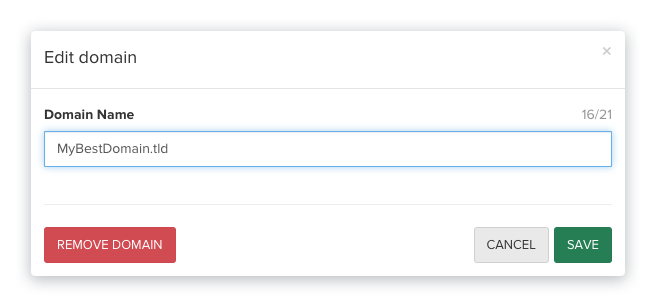 The system will not allow you to make mistakes, so no worries!
If you want to capitalize domains in bulk prior to adding them to your portfolio, this handy guide will show you how.
In a nutshell: Capitalization of domain names enhances the visuals of your portfolio when presented online. By utilizing this simple edit you can improve how you engage your potential buyers—it also helps the otherwise very capable Uniregistry brokers identify a domain's worth faster, resulting in better sales.
The information contained in this blog is provided for informational purposes only and should not be construed as an endorsement, advice, or opinions from Uniregistry on any subject matter.