GoDaddy.com, the world's largest domain name registrar with over 80,000,000 domain names under management, allows its customers to sell domain names they own via an aftermarket platform. The most common sales method for domain name owners is through a subsidiary brand of GoDaddy called Afternic.
Domain names registered at GoDaddy can utilize the List For Sale feature directly in their domain manager, a process I explained here in detail.
Afternic offers a sales method called Afternic DLS: Qualified domain names are distributed through a vast network of domain name registrar partners and are presented to customers of domain registrars around the world, based on keyword-matched searches performed at domain registrars.
GoDaddy.com is one of the many domain name registrars involved where Afternic DLS listed domain names are distributed to and presented to potential buyers as premium domains.
Today, I wanted to share a little bit more information as to what the buyer should expect when purchasing a premium listed domain on GoDaddy.com and how it got there.
What to expect
First, it's actually a good thing to see this premium domain listing. That means the domain owner is willing to sell, it's actually listed for sale and GoDaddy has communication with the owner (via Afternic).
Those three things are often large hurdles to overcome when trying to purchase a domain name from someone that already owns it. Essentially, GoDaddy has established these key elements for you and will handle the transaction and change of ownership between the parties on your behalf.
GoDaddy's next roll is to complete this transaction as quickly and safely as it can for all parties involved.
Finding the premium domain name
Utilizing the domain name search bar on GoDaddy (Find your perfect domain) and doing a search for a specific domain name, GoDaddy matches your search against Afternic inventory and if there is a match, you are presented a Premium Domain (purple banner) listing with a Buy Now price. Prices can vastly range on premium domains and are set by the domains owner.
If a domain search is done and a premium domain is displayed, you simply click the Buy Now button on the listing and follow the standard GoDaddy checkout process to make the purchase of the premium domain name. This purchase will include a one-time purchase price of the domain name and also include 1 year of domain renewal. After this initial purchase, the only fee involved is an annual domain renewal fee that is around $20 for .com domains for an example.
Getting the domain name
Upon completion of checkout and payment, you need to have a little patience because there are several things taking place.
First, you will get an email with your purchase details.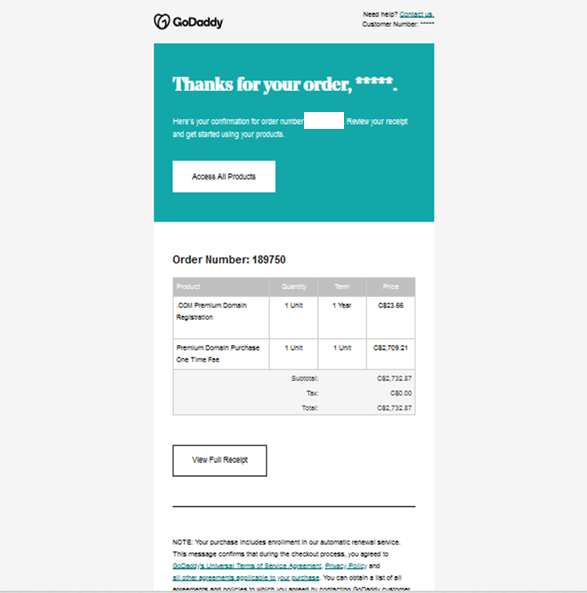 At this point, funds will go through an internal verification and once verified, the domain will attempt to automatically transfer from the seller's account to the buyer's GoDaddy account. The automatic transfer only takes place if the seller opted in and qualified for a feature called Fast-Transfer. Fast-Transfer is an Afternic option and requires several qualifications.
Fast-Transfer usually takes 7 days or less for delivery and will often reach the buyer's account within 1-72 hours of checkout.
Does a buyer know if a domain name is Fast-Transfer or not prior to purchase? Not directly but a little pro tip:
At checkout, if you see a line item "premium domain purchase – one time fee", that can be a Fast-Transfer domain hint. If there is a line item ".com Domain Transfer", that may indicate the seller will need to be manually involved to change ownership of the domain.
The time frame for delivery on non-fast-transfer domains varies based on seller's responsiveness. The buyer may call general support via GoDaddy or email auctions@godaddy.com if they do not receive either the domain or an update within 10 days from purchase.
As an incentive for sellers to use Fast-Transfer (it requires the domain to be registered at specific registrars, like GoDaddy), participating domain names are included in the Afternic Premium Network, which includes further distribution than the standard network but not all sellers keep domain names at participating Fast-Transfer registrars.
Inventory
I always like to keep it real, so I will note: GoDaddy does a good job overall at keeping inventory accurate of its aftermarket domains but at times, an old listing may slip through the cracks.
Most domain owners list domains for sale in several places and GoDaddy/Afternic are often one of those. If a domain name sells at any aftermarket service outside of GoDaddy, there isn't an automated or perfected process to remove old listings from marketplaces as most of the services are not connected. It's mostly on the domain owners themselves to help with inventory management. GoDaddy does a good job with inventory management on GoDaddy registered domains and Afternic listed because it controls both.
If a domain is listed for sale that no longer was a valid listing and was purchased via buy it now, please be assured that you will get a refund and there really isn't anyone to blame, it just happens sometimes. It is generally rare for invalid listings to happen with a buy it now.
Domain Transfer
From a buyer's standpoint, the transfer of ownership in general is automated and handled by GoDaddy and the seller in most cases. Most likely, the transfer will be automated and the domain name will simply appear within the buyers domain management control panel.
Once the domain transfer completes, the buyer will receive the following confirmation that the domain is active in their account and ready for them to begin using: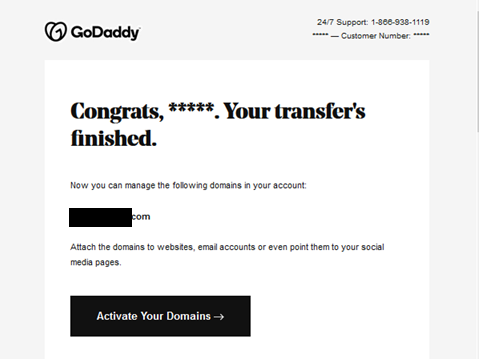 Transfer Lock
If a domain can't be delivered immediately due to a 60-day ICANN lock, the Aftermarket Support team sends the customer an email from auctions@godaddy.com. These are not automated/template emails that are sent by team members, so the subject line and content may vary.
Why would a transfer lock be on a domain name? This is often related to a domain owner transferring a domain name from one domain registrar to another or date of registration. This lock is in place for security reasons.
If a domain does have a transfer lock on it, the buyer must wait until the transfer lock expires, at which time auction support will automatically initiate the transfer. Domain transfers typically take 5-7 days to process once initiated
Alternatively, if the domain is at a registrar that will allow a domain push to another account at that registrar, the buyer may be provided with the option to setup an account with the current registrar and take immediate delivery there. They may then transfer it to their GoDaddy account after the lock date has passed; this is useful if the buyer needs to setup email or a website and does not want to wait for the lock date to expire to take control of the domain.
The buyer is NOT eligible for a refund if a domain is under a 60-day ICANN lock.
How would I know if a domain name has a 60 day transfer lock on it before making the purchase? In most cases, there isn't anything visible to know this. The buyer could communicate with an Afternic broker or GoDaddy support agent before purchase for discovery, but in most cases, it's not likely a 60 day lock in place.
Recap
Domain names are listed for sale by domain owners via Afternic DLS (a GoDaddy Brand), which is distributed to participating domain registrars like GoDaddy.com. Upon a matching search performed by a user, premium domain names can be displayed for easy, fast and secure purchase from a world leading brand directly into your GoDaddy account.
It wasn't my intention to scare you with all the different potential scenarios that "could" happen while purchasing a premium domain name. In general, the domain owner wants to sell and get paid as quickly as they can. GoDaddy wants to provide an enjoyable experience to both the seller and buyer, while trying to do it with as many automated processes it can. At times, automation can't be used to speed up the purchase process but things can be slowed due to waiting for an action from a third party (unlocking / transfer code / account push) at times.
I always utilize articles like these to deeply look at processes and provide the feedback to GoDaddy and the developers for improvement and this will be no different. There is room for improvement and clarity.
The best advice I can provide is to communicate with any questions you may have prior to purchase. I personally would speak with an Afternic representative on the phone 866-829-9361 with any questions prior to purchase. The Afternic rep should be able to tell you if the domain is Fast-Transfer for an example and that is something I would like to know. Finding out after you pay that you won't get the domain for 10 days may be disturbing to some. I also do not agree with paying for a domain and potentially not hearing anything from GoDaddy beyond the purchase receipt for up to 10 days. That is unacceptable.
Although instant gratification is something we all enjoy, sometimes when purchasing a premium domain name, it can take a little bit of time. Knowing it can take up to 60 days to get a domain is a bit of a stretch but a potential. It's realistic that it could be 10 days for the purchase processes to play out when purchasing a premium domain name but it may also be as little as 1 hour.
Working with an Afternic.com broker directly to purchase the domain is also an option and may be a better fit for some.
The information contained in this blog is provided for general informational purposes about domains. It is not specific advice tailored to your situation and should not be treated as such

.